Breast Cancer Rehabilitation For Physiotherapists
Updated October 2016. Written by Siobhan O' Reilly Bracken MISCP PT MPA MSc CLT. Email questions and comments to Siobhan@theoreillycentre.ie
"Post mastectomy, conservative and surgical approaches"
Declined or Delayed Reconstruction
Introduction
After a unilateral or bilateral mastectomy women today have several next steps to consider, including "to reconstruct or not to reconstruct" their breast or breasts. It's both a personal and a medical decision.
As Physiotherapists we are an integral part of the oncology team and it is critical that we understand these options and the common associated rehabilitation challenges. There are three main approaches post mastectomy including:
• #1 The patient selects a conservative approach, to not have or delay reconstruction and is referred to a specialist for specially designed mastectomy bras, prostheses and swimwear.
• #2 The patient selects a surgical reconstruction and is referred to a breast surgeon for tissue expanders and implants
• #3 The patient selects an autologous reconstruction (using her own tissue) and is referred to a plastic surgeon for either a Latissimus dorsi flap, a Tram, Diep or SIEA flap, an IGAP or SGAP flap or a PAP or TUG flap.
A. The conservative (non-surgical) approach
For personal and/or medical reasons a patient may choose not to have or to delay surgical reconstruction surgery. She may choose to have professionally fitted bras with/without prostheses (or pads). Todays mastectomy bras are pretty, cosmetic and covered by medical insurance. The fitters are certified and they stock a wide range of mastectomy lingerie that looks great and is designed to help women feel a little better about the changes they have just undergone.
The certified fitter may also recommend padding or silicone prosthesis, which can be adjusted for size and personal preference and added into the bra pocket. There are certified fitters in many locations and women may locate their neighborhood service and Google the words "mastectomy bras and swimwear plus their location". Mary Downey at www.almacare.ie/ volunteers her time to participate in our courses in Dublin. In her clinic, each woman is seen by appointment for a private one on one fitting. This is clearly a physically sensitive and emotional time for women especially soon after surgery and it's important that they have a professional and supportive experience.
Rehab issues with Delayed Reconstruction.
The downside of the conservative approach is life without a breast, which may have different implications and meaning to each patient and their significant others. The patient should reach this conclusion after consideration of her options with her surgeon and oncologist, including the option to revisit her decision down the road.
The benefits of the non-surgical approach after mastectomy are:
• No risk of general postoperative side effects.
• No risk of donor site postoperative side effects.
• No new scars.
• A delayed decision allows for additional healing time.
• Others desire time to adjust before deciding.
• Significant co-morbidities e.g. circulatory problems or serious heart disease may take priority.
• Overall the patient has less rehabilitation needs and a shorter convalescence.
Swimwear
Specialist bra fitters, also stock beautiful swimwear that is designed to discreetly cover axillary clearance and mastectomy scars with pockets for pads and prostheses.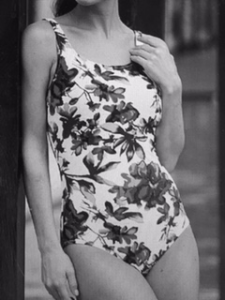 An ill-fitting swimsuit may act as a barrier whereas flattering swimwear may facilitate a woman's decision to join a swim class, which can be restorative and fun.
See additional notes on "Swimming and Aqua Therapy"