Top of Form
https://www.independent.ie Thurs 17th December 2020
"People are terrified of cancer, but there is so much we can do — exercise can reconnect people with their joie-de-vivre"
Physiotherapist Siobhan O'Reilly draws on her personal experience of breast cancer to help others as part of a global initiative promoting the provision of rehabilitation through technology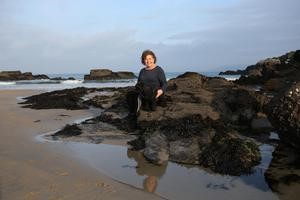 Siobhan O'Reilly and her cockapoo Bo at Killahoey Strand, Dunfanaghy, Co. Donegal. PHOTO LORCAN DOHERTY

Kathy Donaghy December 10 2020 02:30 AM
Siobhan O'Reilly (59) starts her day with a run on the pink sand of Killahoey Beach not far from Dunfanaghy in Co Donegal. It's not unusual for her and her six-year-old cockapoo Bo to have it all to themselves for their 30-minute run.
It's a big change from being a partner in a busy New York City physiotherapy practice where Siobhan worked for many years, raising her two children.
As well as running her own practice just off Wall Street, she was also director of a hospital department and in the middle of a Masters when she was diagnosed with breast cancer at the age of 36. It was, she says, a "massive pause" in her life. "I went from everything to nothing in zero seconds," Siobhan says. Her own experience of breast cancer and her subsequent recovery led Siobhan down a path where she is now part of a global initiative promoting tele-rehabilitation to improve the lives of women recovering from breast cancer.
While her personal journey to recovery was a catalyst for change in her life, it was her mum Myra's diagnosis with breast cancer two years ago that brought Siobhan back home, first to Dublin and then to Donegal, where she grew up and where her mother lives.
"It was a bit like coming full circle coming back to Donegal and then lockdown happened. The phone started to ring from patients asking 'can you help me?'" says Siobhan.
At the time, the country's Local Enterprise Offices were trying to help fund digital services and Siobhan applied for a business continuity voucher and began working on a website and designing her own telehealth service.
She also changed one of her bedrooms into a studio where she could have Zoom calls with patients wherever they were. What she found was the need for physiotherapy services was massive.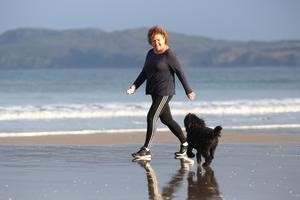 Siobhan O'Reilly
As she worked to design her telehealth course she sent it on to a physiotherapy colleague and one of the world's leading experts on breast cancer recovery, Jill Binkley, to review it. As founder of US-based TurningPoint Breast Cancer Rehabilitation, an organisation that treats people regardless of their ability to pay, Binkley has helped some 5,000 patients move through the various stages of treatment and recovery.
She's also lived that journey herself — twice. Binkley's advice to her was to get her service up and running as soon as she possibly could. Binkley also asked Siobhan to join a research group looking at the feasibility of telehealth in reaching breast cancer survivors in 10 hard-to-reach locations around the world.
Siobhan feels that she's not just talking the talk, that as a breast cancer survivor herself she knows the journey to recovery can be a long and arduous one. "People are terrified of cancer but there's so much we can do. That's why I flaunt my running on the beach. Because cancer treatment is systemic — it's total body — the chemotherapy affects every part of you. You need to know how to manage that," says Siobhan.
"A lot of women are very stoic, they just go about their business. But there's no need to be under-informed and there's every need to be completely educated about your situation".
Exercise plays a vital role in recovery and in helping women reconnect with their joie-de-vivre. "I ask people what do they love? I tell my patients that they're going to get back to doing whatever makes them feel alive," she says.
Starting slowly and building up to a 35-minute walk every day is part of her prescription for a return to health. "That helps every single organ come back. You tell patients what the steps are to getting there. It might only take two or three sessions on the phone to get them going. Nobody told me any of this at the time and I had no idea how to start back. But you have to start so slowly and gradually rebuild. You really pace yourself," says Siobhan. "If you ask your body, it will give it to you. The problem is people take off like rockets, but I say start slowly. You're allowing your body to regulate your mental health, your bone health and your heart health — all these systems affected by treatment begin to come back," she says.

Another issue breast cancer survivors may have to contend with is lymphedema. This is most commonly caused by the removal of or damage to lymph nodes as a part of cancer treatment. It results from a blockage in your lymphatic system, which is part of the immune system. The blockage prevents lymph fluid from draining well and the fluid build-up leads to swelling.
However, Siobhan says that the sooner patients have access to physiotherapy, the sooner recovery from will be. She explains that the body always has a plan B so the job of a physio is to allow the flow to stop fluids from building up. By teaching patients hands-on techniques they can mobilise the skin themselves to help this drainage process.
While telehealth is slowly being rolled out, Siobhan says it needs to be learned and it needs to be safe. "Practitioners in Australia and Canada are masters of this. They have been talking to people like this for a long time and we are learning from them," she adds.

After being diagnosed with breast cancer in the third trimester of her pregnancy, 34 year-old Erica Tierney who lives in Sallins, Co Kildare, describes her recovery as a bit like trying to put Humpty Dumpty back together.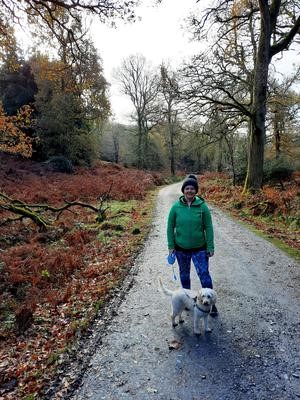 Erica Tierney, from Sallins Co. Kildare.
With her daughter Róise now a year old, Erica was 33 weeks pregnant when she underwent a mastectomy. She also had lymph nodes removed which affected her mobility in her arm and shoulder. Erica wondered how she would be able to hold her baby.
She started chemotherapy when Róise was just three-weeks-old, completing her treatment in March of this year. She also underwent radiation therapy, which ended in April. She found herself utterly exhausted after all she'd been through.
"The weird thing is when I finished treatment I was shuffling around the house and I had so many side effects. I said to myself 'how do I get myself back to close to where I was?' All the medical appointments fall away and I wondered what I could do to make myself feel better," says Erica.
She explains that she first heard Siobhan's name on the chemo ward and went about trying to find her. She had her first appointment over the phone with Siobhan in April in the early days of the pandemic. Through regular phone calls and Zoom calls, Erica began her recovery. "It helps that Siobhan has walked this path as well. "With all the drugs, it was taking a toll on my knees and hips and I couldn't even walk to the shop.

"Siobhan went through everything with me and checked my mobility. From there she built a programme for me," says Erica. "I'd always been quite active and that's what I found hard. I was doing high intensity training and weight training and loving it. It was weird going from all that to pregnant to not being able to go for a walk". "I started off doing a two-minute walk every day and now I'm doing a 10km walk. I learned strength-building exercises and how to loosen up my joints," she says.
Guided by Siobhan, Erica also learned self-massage techniques for manual lymph drainage. "She showed me how to manage that myself and now I do self-massage every day. I've built it into my day and it's like my daily habit now," she says. While Erica was able to have an in-person appointment with Siobhan in July, she believes she wouldn't be where she is now without the telehealth service.
"I can see going forward how amazing this could be for people. "For me, I didn't know how to make myself better. The fatigue was relentless. I don't know what I would've done without it," says Erica.
To find a physiotherapist who does telehealth visit the Irish Society of Chartered Physiotherapists website www.iscp.ie