By Siobhan O'Reilly Bracken, MISCP MPA MSc CLT updated 28/09/20
Meticulous skin care is a cornerstone practice in your lymphedema self-care practices (LSCP). By proactively caring for your skin, you're protecting it so it can protect you. You are also caring for your lymphatic system, because the superficial lymphatic system is situated in your skin!
Who benefits from practicing meticulous skin care?
If you are already living with lymphedema or if you are at risk for developing lymphedema, this article is for you. If you've had cancer treatment that involved your lymphatic system, you may be at risk of developing lymphedema. Fortunately, lymph vessels cut during surgery can regenerate; however, lymph nodes do not grow back, so the risk for developing secondary lymphedema is life-long. The risk is low when only the sentinel lymph nodes are sampled and higher (but not imminent) with a total lymph node dissection (TLND).
Life-long self-care practices
Lymphedema self-care practices, such as meticulous skin care, are life-long practices that will bear fruit now and for many years down the road. Clearly, the earlier you become skilled in your own skin care practices, the better for you and your quality of life.
How does your skin protect itself in order to protect you?
The outermost layer of skin is covered by a veil or film known as the "acid mantle." This protective veil is maintained when sweat and sebum are secreted up onto the skin from sweat and the sebaceous glands just below. These secretions mix together to form a low pH acid mantle. Bacteria prefer an alkaline or higher pH environment. This acid mantle is the body's own natural way of keeping your skin healthy. Healthy skin feels soft and supple and acts as a protective barrier, preventing bacteria and fungi on your skin from getting through the outermost layers and into the body
First-aid kit for skin breaks
Reduce your risk of skin breaks by using insect repellent, sun screen and wearing protective clothing, such as a high collared shirt, long pants, boots, gardening gloves and oven gloves. Make sure you have a first-aid kit at home, in the glove compartment of your car and in your suitcase when on holidays where insect bites are common. Useful kit items include antiseptic cream, anti-itch cream and over-the-counter pain medications to keep your fever low until you can see your doctor or an ER team.
FIRST AID KIT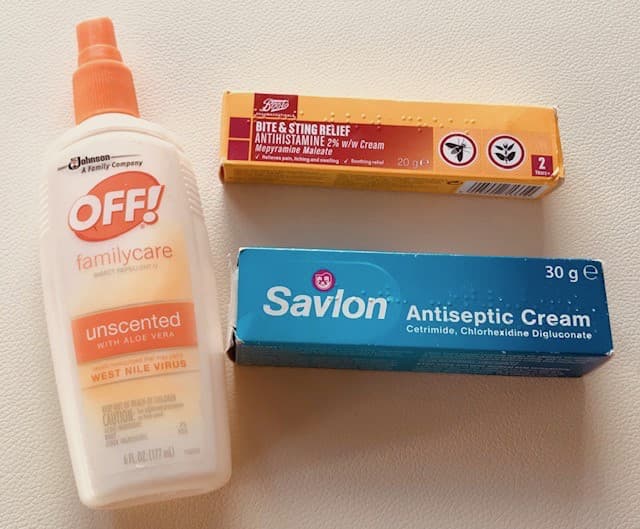 What is the connection between breast cancer-related lymphedema (BCRL) and cellulitis?
Many people living with lymphedema are familiar with cellulitis. If the skin is broken, either because it is dry and cracked, by an insect bite, or by an cut, streptococcus and staphylococcus bacteria can enter and infect your skin causing cellulitis. The infected area becomes red, painful and swollen, and you may also develop flu-like symptoms. A mild cellulitis can go away on its own, but it can also spread quickly. Call your doctor without delay and explain your symptoms so that you can start oral antibiotics. Advanced cases will need intravenous antibiotics and possibly a hospital admission. Sepsis is a serious complication of poorly treated cellulitis, when the bacterial infection spreads into the bloodstream.
BCRL AND CELLULITIS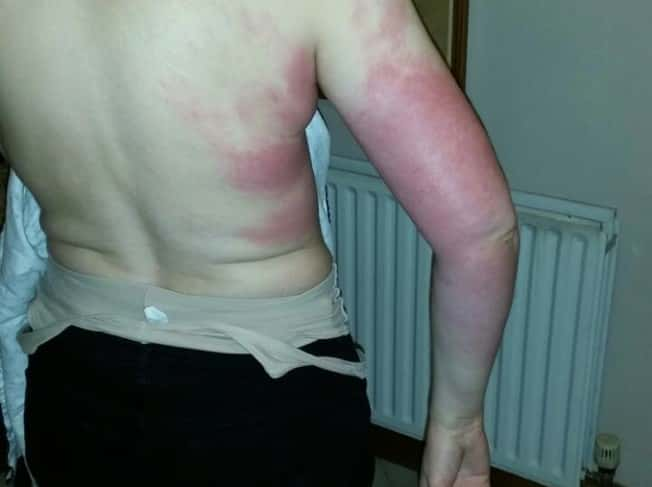 Back to the acid mantle
Without this emulsion of fats and sweat, skin becomes dry, feels tight and rougher, and becomes more susceptible to cracking.
THE ACID MANTLE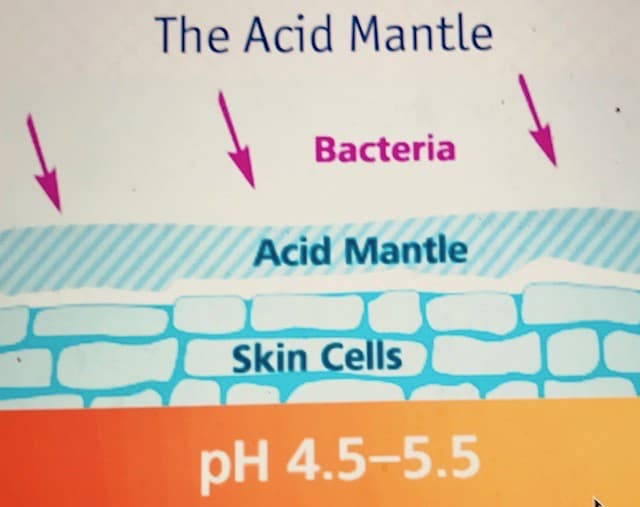 The acid mantle emulsion is made up of three naturally moisturizing factors:
Lactic acid and various amino acids from sweat secreted by the sweat glands.
Free fatty acids from sebum secreted by the sebaceous glands attached to hair follicles.
Amino acids, pyrrolidine carboxylic acid and other natural moisturizing factors.
Combined, these secretions maintain a low and slightly acidic pH on the skin, between 4.5 and 5.5. Therefore, it is the sweat and sebaceous glands that we are thinking about as we select our skin care program. If we select products and practices that are compatible with the body's own highly evolved mechanisms, we can boost our skin's ability to defend itself from fungal and bacterial infections, including cellulitis.
Practical suggestions
If you have lymphedema and a specific skin condition, such as psoriasis or eczema, please discuss it with your doctor and dermatologist, who may prescribe specific treatments.
Check the labels on the back of the skin care products you use. Read the percentages of perfumes, parabens and fragrances to get an idea of its pH. Consider the potential affect it will have on the skin glands and acid mantle.
Try products that state they have a low pH, e.g.:

Eucerin pH5 Body Wash
Eucerin Urea-Repair with 5% Urea, Replenishing Body Wash
LOW pH SKIN CARE PRODUCTS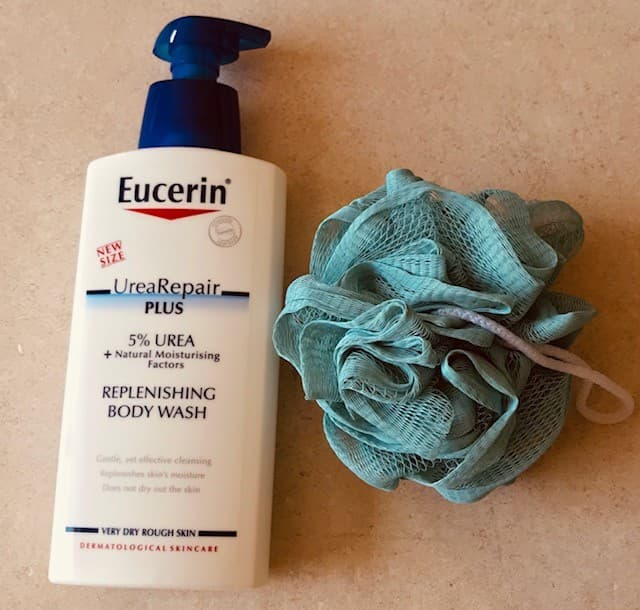 Follow these principles of meticulous skin care, and your skin will serve you well!